Niche-oriented and unique: the 2 key ingredients for a top-converting affiliate offer.
And the new exclusive opportunity you get as a WhaleHunter.cash affiliate – to promote live cams on Discord – meets these 2 requirements.
That's right, you now have a filter option on SkyPrivate that allows you to promote exclusively those models that offer private shows on Discord.
What will you get out of this? More money, of course!
Use it to target a more narrow, yet better-converting niche.
Because if you target everyone with the offers you're promoting you target… no one, right?
Now, let's see:
how the Discord filter option works
what other new search filters are now available on SkyPrivate
how you can use them to your best advantage
Introducing the DISCORD Search Filter on SkyPrivate
Now on SkyPrivate, you'll find models that offer intimate shows on Discord, too. In addition to Skype.
And you get to promote specifically those models, exclusively, to your audience.
We're talking about more 1200+ models now offering live cams on Discord, too, via SkyPrivate.
How do you select precisely those models that take intimate calls on Discord? You use the newly added Discord filter option to filter out your search results.
In other words, now you get to be more strategic with how you select and position your promoted offer as a WhaleHunter.cash affiliate.
And there's more!
More new filtering options that you can use to refine your search results and fine-tune your offers so they're the closest to your audience's preferences.
So that you increase your offer's chances to convert.
Enter 2 more search filters recently added to SkyPrivate:
Stream

: it allows you to select and promote exclusively those models that offer live-streaming sessions right on their public profiles (Promoted Models only)

Phone

: it allows you to select and promote exclusively those models that offer private calls.
More options for members. More opportunities for you – the affiliate promoting these specific models – to influence the conversion rate to your advantage.
How to Use the Discord Filter to Refine Your Offer (And Optimize It for Better Conversion)
You can access the new Discord search filter in 3 simple steps:
1. Click "Load More Profiles" on Pvt.sexy (bottom of the page).

2. Turn on the Discord search filter, then click "Apply Filters".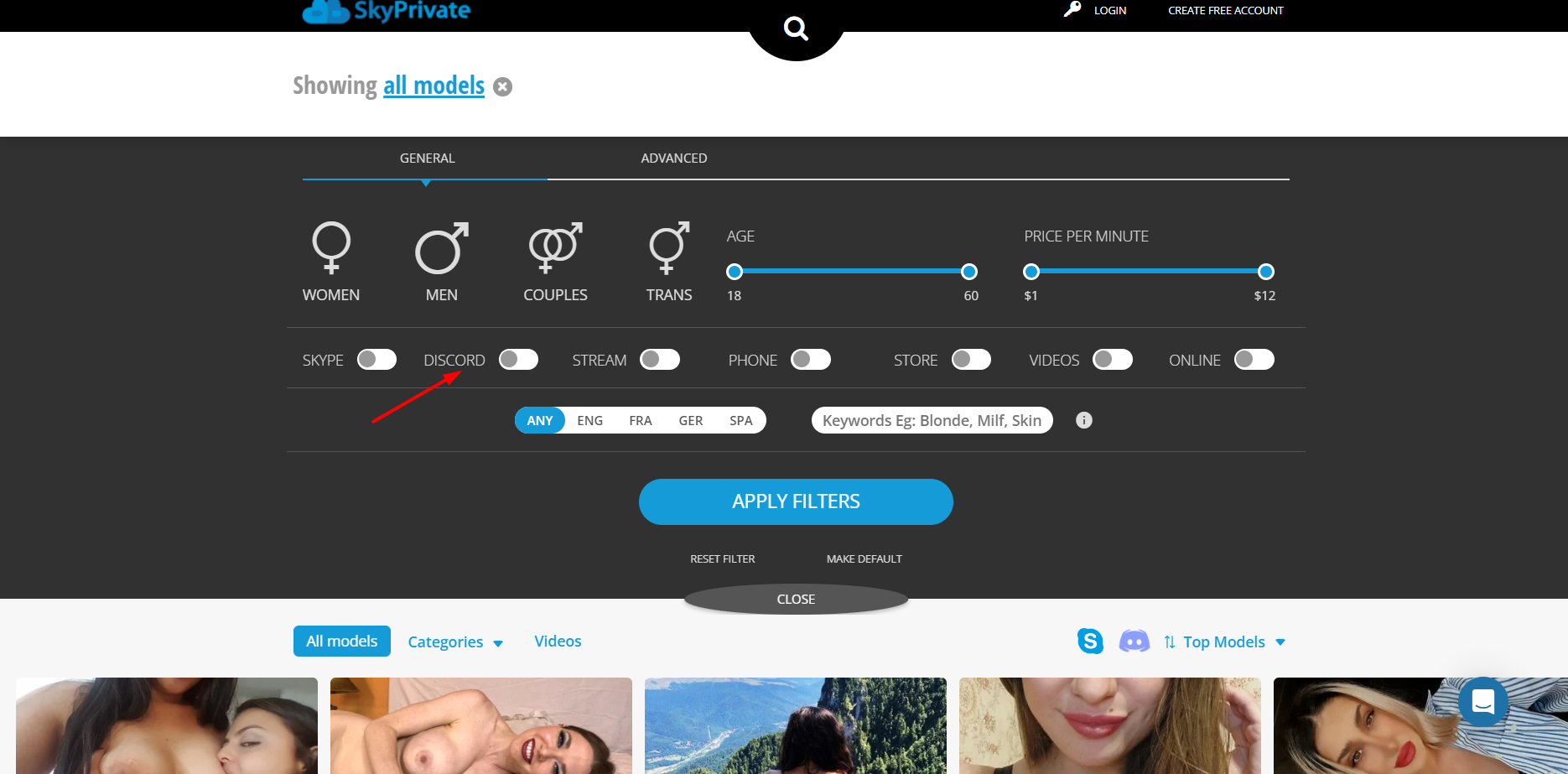 Use the Discord filter and narrow down your search results to those particular model profiles where your audience can find the option to have private shows on Discord.
Once selected the Discord filter, you get to view (then promote) only those models that make the perfect match for your own niche audience.
3. Create your affiliate link.
Once you've applied the Discord filtering option, log in to your WhaleHunter.cash account and build your trackable link.

There you have it!
Now you can promote this EXCLUSIVE offer!
Why You'll Want to Use the New Filters (And How to Make the Most Out of Them)
Because you'll get to focus exclusively on promoting those models that offer LIVE Discord shows.
Or on those that spoil their members with short live-streaming sessions, too. Or on the models who do phone call sex…
In short, with the new filtering options on Pvt.sexy you get to:
Save time

on your search

Fine-tune

your affiliate offers

Promote

only offers that are highly relevant to your audience

Boost

your conversion rate with better match-making of your audience with your promoted offers
In other words, the new filtering options allow you to be more strategic with your hustle.
So go ahead: test these new filters and use them to create your new laser-focused offers.