Short answer: YES, from every dollar spent by someone on SkyPrivate.com/Pvt.sexy or White Labels, even if they make purchases without having an account.
Hey all, Magnus here with some updates and explanations.
So, we got questions from some affiliates about the features that SkyPrivate.com has implemented, that offer a user the possibility to spend money without the need for an account. And here we're referring to the "Purchase Session" button, the "Buy video" option, and the "Send a tip" button – see them below.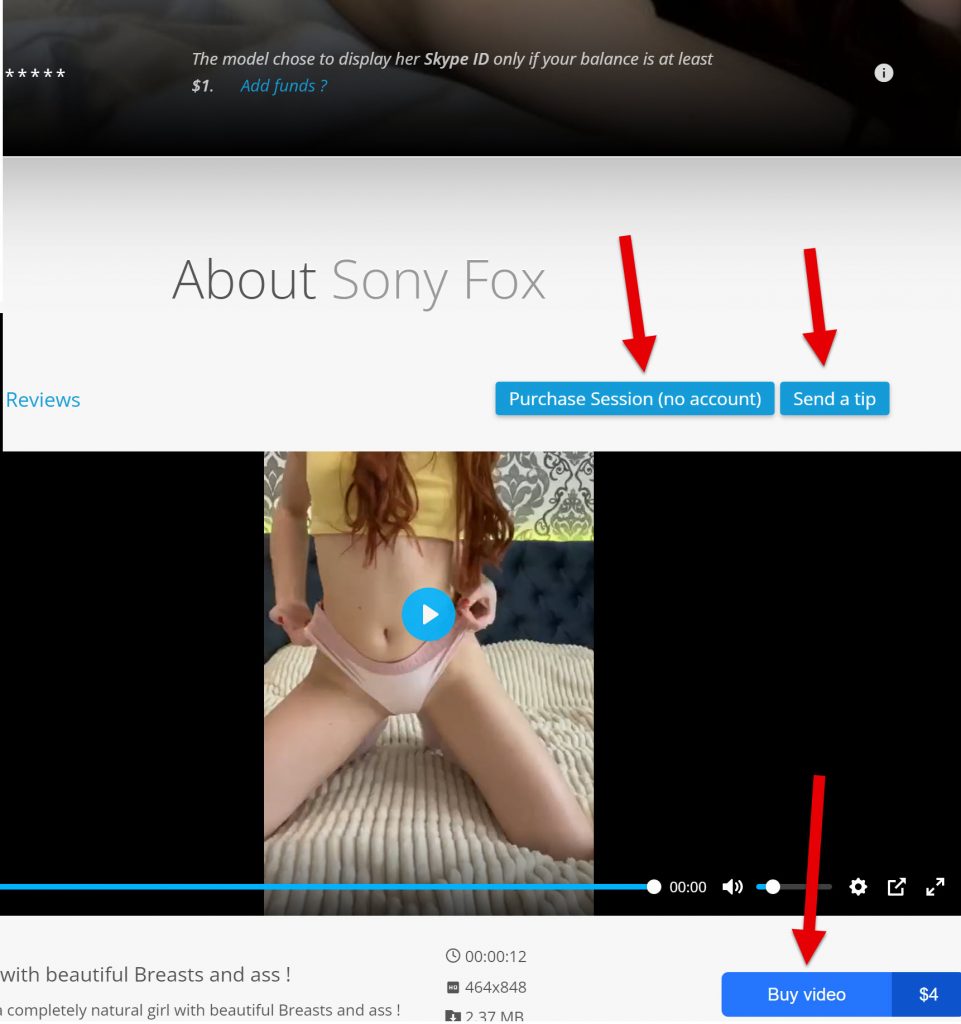 The affiliates' concerns are about the fact that these features are seen by them as "commissions gaps", instances where the affiliate will not get his money from the amount spent through them by the users they send, because there is no account creation seen.
I think this calls for further explanation & evidence on how things work because the reality is not as assumed. And we always make sure that affiliates continue to be paid from each and all the dollars spent by their users/members.
Let's take them one by one:
Purchase session feature:

The affiliate sends the user that clicks on the button, who is then asked to enter some details (email included) and the amount he wants to pay.
The next step is the payment window, where he must send the money
As the user makes his payment, the system creates an account for him: the login details get sent to his email address and the affiliate is paid according to the offer he promoted.

Proof of test:

Tips button

The affiliate sends the user who clicks on the button
The user is redirected to login/register, so this is not a "no account payment" situation
Only after he logs in/registers and he is able to make this payment, and after that, of course => the affiliate gets his share of that money to his WhaleHunter.cash account

Buy video button

The affiliate sends the user who buys a video without an account
A payment window opens up, with 2 options: to login and pay if the user has an account or to pay with Credit Card
After the purchase, the system creates an account for that user and redirects the affiliate`s share of the money to his WhaleHunter.cash account

Proof of test
As you can see, no matter if a user has an account or not, he will always become a SkyPrivate.com Member. And that particular affiliate who sent him will get his commission from that payment and from all the payments the user will make from that moment on.
So, no matter the instance of a user (whether he has an account or not) he will be registered as a "Member" once he spends any sum of money via these features. And the affiliate will get paid as long as this Member spends money on the website.
To wrap this up and make it clear, WhaleHunter.cash affiliates will always be paid for every dollar spent by a new user that lands on SkyPrivate.com, no matter if he has an account or not.
For the Revshare offer, you, as our affiliate, earn money from calls on Skype, prepaid shows, tips, and video stores, for lifetime!
For the other offers, PPL and PPS, you get paid upfront, according to each offer's terms and conditions.
The same thing applies to the offers for Skype.Streaming.Love — RevShare and PPS — so if you didn't start to send traffic to this new website, we invite you to start doing it now.
Here at WhaleHunter.cash, you, the affiliate, are our no.1 priority. We answer every email in a matter of minutes, make payments quicker than promised, and we always make sure that your traffic is not wasted in any way. We believe that a win-win partnership is the right approach for all the parts involved in this business, and we are here to help you first.
So please, test us, question us, and let's do some money together!