"Is SEO dead?", "Is blogging still working?", "Is white labeling still worth it?"… There's one BIG answer to all these questions:
It does if you're doing it right.
Which, in many cases means doing it differently from the other 90% of people out there.
Now, in this blog post you'll find out:

Why and when you'll want to go with a white label solution

: top reasons and scenarios when it is your best option

How you can do things differently

so you get the most of your white label live cam site and…

give your earnings a super boost

🙂



So, let's dive in:

1. Top 3 Reasons To Start Your Live Cam White Label Site

1.1. You Get Your Own Live Cam Site Up and Running in… Minutes
Literally.
For instance, it won't take you more than 5 minutes to build a perfectly functional webcam site with the WhaleHunter.cash white label tool:

You complete the initial setup

: give your new website a name, enter your domain…

You run basic configuration

, which requires no special web development skills



And that's it. It's a turnkey solution that helps you save time and money.
No need to worry about:

which technology to use

training

design

testing

infrastructure



You can jump straight to monetizing traffic with your white label.
1.2. You Get to Focus on What You're Really Interested In
Maybe you're all into marketing strategy and SEO. Or maybe content/blog writing is what you do best. Why strive to be a mediocre conductor when you can be an instrument virtuoso?
With many of the other steps and tasks off your back now, you get to invest all your time and energy into promoting your new white label site.
Into creating your own brand, building traffic for your new "kiddo" and… monetizing it. But more about that in a bit. Bear with me just a few more paragraphs.
1.3. You Own Your Domain, You Own Your White Label Site
And where do you add that you're not tied to a hosting plan: your new live cam site is hosted on the main website's server.
You're the only "king/queen of your castle". In other words, you get your own version of SkyPrivate, the no.1 Skype-based webcam out there: your own live Skype cams site that you get to fine-tune to your liking.
So, the minimum that you'll need to invest will be in buying a domain ($12 per year at most)
Good to know! Unlike other white label adult webcam affiliate programs, WhaleHunter.cash doesn't deindex white label websites. It's just not our style.
2. When Is White Labeling the Perfect Fit for You?

2.1. You Already Have a Website to Send (Good) Traffic From
With roots well-grounded in a… high-trafficked website, opting for a white label solution to boost your revenues is the smart thing to do.
Let's say that you already have a website where you sell… sex toys and traffic is pretty steady there. Using it to promote your new "kiddo" is the best strategy you can come up with to give your white label a good head start.
2.2. You Need to Have Your Site Live Fast
Time is not on your side and you can't afford to wait for months to get your live cam site built from the ground up? A white label solution is the best option for you then.
You get to skip a lot of the tedious and time-consuming steps of its development process and jump to… branding and promotion.
2.3. You Have No Web Development Experience
Or maybe you just don't want to get yourself tangled up in lines of code. In long and frustrating hours of testing and bug hunting. And you don't have the budget to hire the experts to do it for you, either.
Maybe you just want to focus on what you know and like best.
When white labeling, you can afford that "luxury": to skip the site building part and go straight to implementing your marketing strategy and building up traffic.
2.4. You Need to Cut Down Costs
Need I say more? When running on a shoestring budget reducing costs becomes your mantra.
Well, a white label solution gives you the chance to get yourself a full-featured website in no time. And within budget.
2.5. You Want to Tap into an Existing Hot Market
Would you promote a product/service that's already being sold by hundreds or a… unique and hot trending one?
Like live cams on Skype in this case: they're both innovative (compared to traditional browser-based cams) and in high demand right now.

A different type of service with a hot market of its own, that only some affiliates promote, now that's the winning formula you'll want to explore and exploit as an affiliate.
And promoting an already popular product does mean cutting down on your resources of time and money while still getting your share of the pie…
Don't reinvent the wheel: resell it!

3. White Labeling Done Right: 3 Smart Things That Only 10% of Affiliates Do
"Does white labeling still work?" It does for those affiliates who:
3.1. Direct Traffic from Their Other Adult Websites
And that's starting white labeling with a strategy and not merely chasing the idea that you reduce costs and get rich overnight.
Smart affiliates already have adult websites that they can drive steady, targeted traffic to their "white label kiddos" from.
So, do you have a site in the adult niche with established traffic?
3.2. Work Hard on Getting High-Quality Backlinks
If you want organic traffic for your new baby, you'll need to build a solid network of backlinks. There's no shortcut here.
So, are you the stubborn type, who's willing to put in the effort? Or the idea of hard work scares you away?
3.3. Promote Their White Label on Their Cam Niche Blogs
Another smart way that few white label site owners do is actually starting a blog. One with relevant, regularly updated content to get some organic traffic from.
You can even consider guest blogging. Whatever it takes to get some quality backlinks to your white label.
I know, sticking to a publishing schedule becomes more and more tedious after… 2-3 weeks. But who said that making your white label profitable was going to be easy?
You've skipped the initial steps in building your site, now it's time to invest some effort in promoting it and bringing in traffic. There's no way you can skip this part, too.
Unless, of course, you're one of the 90% affiliates out there who're chasing… unicorns.
3.4. Promote Their White Labels on Social Media and Tube Sites
And in this case, here we're talking about promoting the live cams running on your white label site. Go on and spread the news: upload the Models' hottest pictures on Twitter and link to their profile pages.
Go ahead and upload some of their most teasing non-nude pictures on Instagram. Spread the news about your webcam site on relevant Reddit channels.
Build your list of popular porn tube sites and promote your white label there, too.
Traffic won't come unless you work for it. So, go out there and get your white label known.
4. Why Build Your White Label Cam Site with WhaleHunter.cash?
OK, so you know now for sure that yes:
You can still make white labeling profitable if you're smart about the techniques you use to make it work.
But the other question remains:
"Why would I choose the WhaleHunter.cash white label tool to build my cam site with?"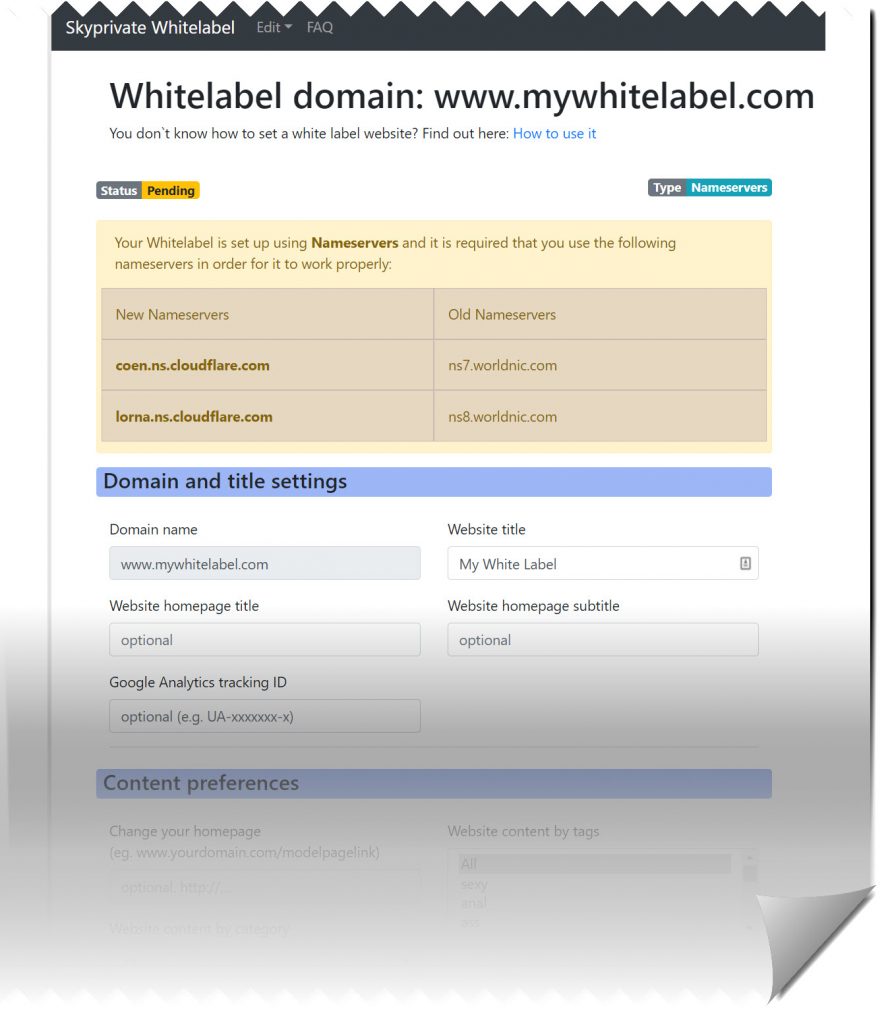 Here's why:
Because

you'll get your own Skype cams site (and it's live cams on Skype that make SkyPrivate stand out in the adult space)

Because you'll get an SEO-ready website from day one

: indexable and ready to be customized

Because you get all the customization freedom you're looking for

: add your logo, change the colors, the header image, the site's title,

filter the content so that it gets displayed by a specific tag or category

on SkyPrivate (gay, BDSM, Asian babes, you name it)

Because it'll take you literally max 5 minutes to get it in working order
Because you'll get a free SSL on each website you build
Moreover, you need no approval from us or anyone to get your website live.
But what if you just don't fit the profile of the white label owner?

You can build your own content aggregator site with the WhaleHunter.cash feed API and have unlimited control over its looks and content.

This way, you get to:
decide what type of content goes in

: specific SkyPrivate Models that it'll get populated with, plus any other type of adult content that you want to add

determine how that content gets filtered

on your website
Full control and quality content being pumped into your site by… default. How's that for a win-win solution?
Now, I can't lie that I'm dying to find out: what's your opinion on white labeling in 2021? Do you think it's still worth it or no so much?
Let's start a debate in the comments down below!