Links, carousels, banners, white labels, chat heads… There are so many promo tools in your affiliate account and you just want to know which are the most effective ones, right?
So, let's dive right into the most powerful promotion tools for WhaleHunter.cash affiliates: the 3 widgets available in your account.
Let's find out:
how they work
what their key benefits are
how to embed them into your own website/blog
1. The Live Chat Head Tool
Eye-catching and interactive.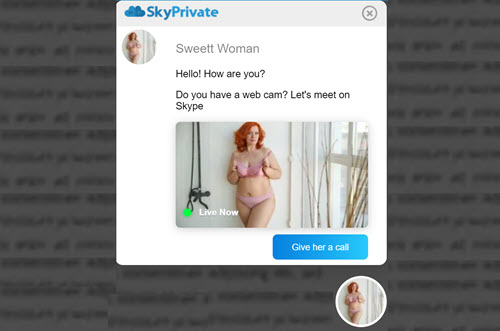 The 2 best words to describe this promotional tool in your affiliate account.
Inspired by Facebook's own Messenger app, the Whalehunter.cash live chat head tool is:
attention-grabbing enough to catch the eye of your users the moment they land on the website
engaging enough to get them hooked
And designed to help you skyrocket your conversion rate.
How does it work?
Once your website visitor clicks on the chat head icon, a SkyPrivate model's live stream pops up. Along with her seducing message and the "Give her a call" button.
How do you use it?
You take 2 simple steps:
Customize the default settings you have there to best suit your preferences: the bubble's width, the text on the button, the category for your online model, the bubble's position, etc.
Copy and embed the script code into your website (after you've chosen the best spot for it, of course)
That's it.
Now you have your own live chat head tool displayed on your website, "luring" visitors to SkyPrivate models' virtual rooms.
2. The Live Video Widget
Hook, tease, and engage your site users with a peek into the steamy show of a model ready to take calls on Skype!
[xyz-ihs snippet="live-video-widget"]
In short, the live video widget is another powerful promo tool in your affiliate account that you can use to turn traffic into conversions.
No wonder that it's so popular among WhaleHunter.cash affiliates.
How does it work?
Once placed on your website, this widget offers your audience a short preview video of a SkyPrivate model that's online at that moment.
It'll be just like peeping through the keyhole into the bedroom of a sexy babe ready to receive him or, in this case, to answer his call on Skype.
And more calls means more money for you…
How do you use it?
Easy!
You update the default settings if necessary (image width, category, button text)
You copy and embed the script text from your affiliate account into your website
There! It takes but a few minor tweaks (if you're not 100% OK with the defaults) and a quick copy-paste to get this conversion magnet on your sidebar or landing page.
3. The Live Models Carousel Widget
Dazzle them away with a… cluster of models at once!

[xyz-ihs snippet="model-widget-carousel"]
Why should you settle with promoting and grabbing your website visitors' attention with just one model, when you can get them hooked for good with multiple hot babes?
All available for intimate 1-on-1's on Skype.
And this is what the live models carousel widget in the Promo Tools section of your affiliate account is all about.
How does it work?
The widget displays several live models in a slider, with left and right arrows to help users scroll them through.
How do you use it on your website?
Again, it'll take but 2 simple steps:
Adjust the default settings to suit your needs (the no. of models you want your carousel to display, the category they should fall into, the maximum display, the button text…)
Copy and embed the given script into your website
Easy peasy. And yet, such a powerful promo tool!
More models promoted at once, more chances for you to turn your website visitors into SkyPrivate members.
The END!
These are the 3 best-rated promo tools among our affiliates: high-converting, conveniently customizable, and super easy to embed.
You can use one, two, or all three of them in one website, all depending on your creativity to get your visitors' attention.
Don't wait, login in to your WhaleHunter account and get your hands on them now!
How about you?
Are you ready to use these widgets to grow your affiliate earnings, too?
As always, if you've got questions, don't hesitate to send them over in an email at [email protected] or via our contact page.